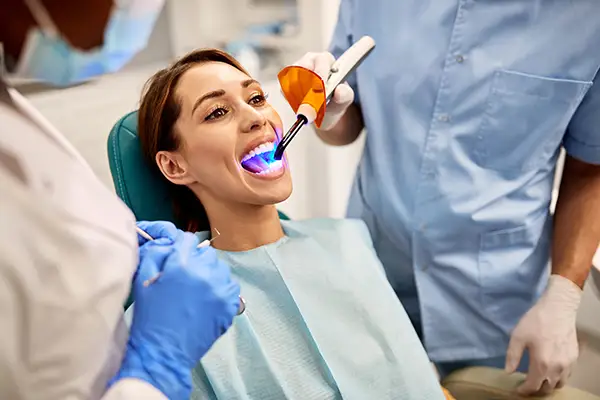 Dental bonding

, or tooth bonding, uses a soft composite resin that can be manipulated into the desired shape and color. It is both a restorative and cosmetic dentistry practice that can address cracks, chips, and other concerns on teeth that are otherwise healthy. The treatment can be used to address discoloration on teeth, or even alter the appearance of minor gaps between your teeth.

The soft composite resin material used is a pliable material that can be shaped as it is needed. At Cooley Smiles we provide our patients with dental bonding as an option to address some cosmetic concerns.


The Dental Bonding Process

There are several benefits to cosmetic bonding, with perhaps one of the most appreciated benefits being that it is a less invasive option when it is compared to other dental solutions. Many patients will not need a local numbing agent for the duration of the procedure. The exception may be if there is decay on the tooth that needs to be addressed prior to the bonding treatment. A local anesthesia will be used to ensure that the patient is comfortable.

Once the patient is comfortable, our dentist will carefully color match the composite resin to the desired color, typically to the color of your natural teeth surrounding the tooth being worked on. This assures you of the natural-looking finish that you want.

The surface of the tooth will be roughened slightly, in order to ensure that you get a secure bond with the composite resin. A bonding liquid will be placed upon the tooth, to further secure that bond with the composite resin.

The composite resin will then be applied to the tooth. The pliable materials will be carefully shaped until our dentist achieves the desired natural appearance. A special ultraviolet light will harden the pliable resin. Once it has firmed up, the tooth may need just a few minor refining adjustments. It will then be buffed and polished until it looks beautifully natural.


How Long is the Procedure?

Patients appreciate that the bonding procedure is quite fast. Unlike other cosmetic treatments, the results of this one can be seen in just a single appointment if there are no complications to first address. Generally, for most patients, the procedure is just a quick 30-minute treatment. If there are multiple teeth being addressed, the procedure could take a bit longer.


Is Dental Bonding Considered Safe?

The non-invasive nature of cosmetic bonding makes it a very safe treatment. There are no risks associated with the composite resin and the bonding process. The composite resin that is used to bond into your teeth is known for its durability. However, it is not as durable as your natural teeth. It can stand up to your normal bite force but can still potentially chip or crack if you bite down too hard on something.

It is recommended that you avoid crunching on ice or other objects like pencils. Don't bite your nails, as this is also a habit that can potentially damage both your natural and your bonded teeth.

If you have always thought about a cosmetic dentistry solution for your smile, we can help you. Call (425) 216-3367 at Cooley Smiles to schedule your consultation to find the cosmetic solution that will meet your aesthetic needs.