Tooth Bonding Kenmore WA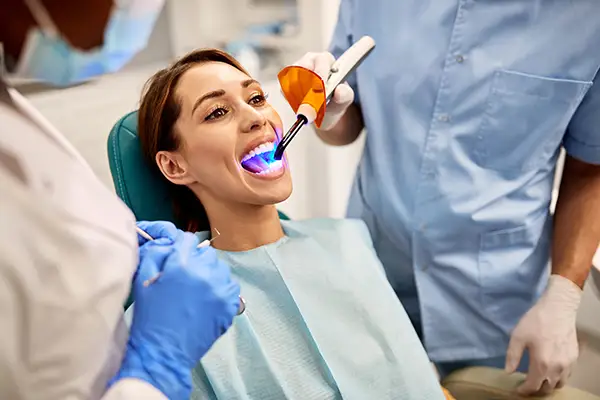 Tooth bonding, also known as dental bonding, is a common cosmetic procedure that can be used to improve the appearance of teeth that are:

| | |
| --- | --- |
| • | Misshapen |
| • | Gapped |
| • | Crooked |
| • | Chipped |
| • | Affected by decay |

Using a composite resin, our Bellevue cosmetic dentists can painlessly correct these common issues with one, quick cosmetic procedure. Once hardened, the resin is durable and effective, giving you a beautiful, fully functional smile.


Your Tooth Bonding Procedure

The procedure for dental tooth bonding can be completed in a single office visit. Our Cooley Smiles dentists start the process by roughening the tooth allowing a surface to which the resin can bond. They then apply a thin layer of resin to your tooth which is hardened with a curing light. Subsequent layers are applied until the tooth is suitable for shaping and polishing.

The resin is hardened in a matter of minutes with the curing light, making this procedure a fast and easy way to achieve the smile you desire. The coloring of the resin is available in several shades which will be matched to your existing teeth, providing a seamless appearance.

Your teeth will be ready for use immediately upon leaving the office. Bonding gives you results that can last from seven years to an entire lifetime, of course proper care helps extend the life.


Ideal Candidates for Tooth Bonding

Tooth bonding is ideal for patients with small gaps in the front of their teeth. You can also benefit from a bonding procedure if you have teeth that are crooked or unevenly spaced.

Bonding is also a good option if you have severe staining on your teeth which has not been responsive to tooth whitening procedures, though smokers may not be ideal candidates for this procedure. Dental bonding is porous and yellows much more quickly with nicotine than procedures such as porcelain veneers. Our Cooley Smiles dentists offer several options for perfecting similar cosmetic dental issues and will discuss these with you in great detail during your initial consultation.

If you live in or around Kenmore, Seattle, or Bellevue, Washington and would like to see if you are an ideal candidate for dental tooth bonding, please contact the experienced cosmetic dentists at Cooley Smiles today to schedule your initial consultation.